The Energy Transition has broadly been defined as the migration from fossil fuels to low or zero carbon energy, largely driven by the critical need to address the rapidly warming global climate. More specifically however, the energy transition will involve a complete transformation of the global energy system and impacts firms across sectors and value chains. The energy transition will need to be understood as a complex and interconnected evolution with multiple technology pathways and end points that vary by sector and geographies.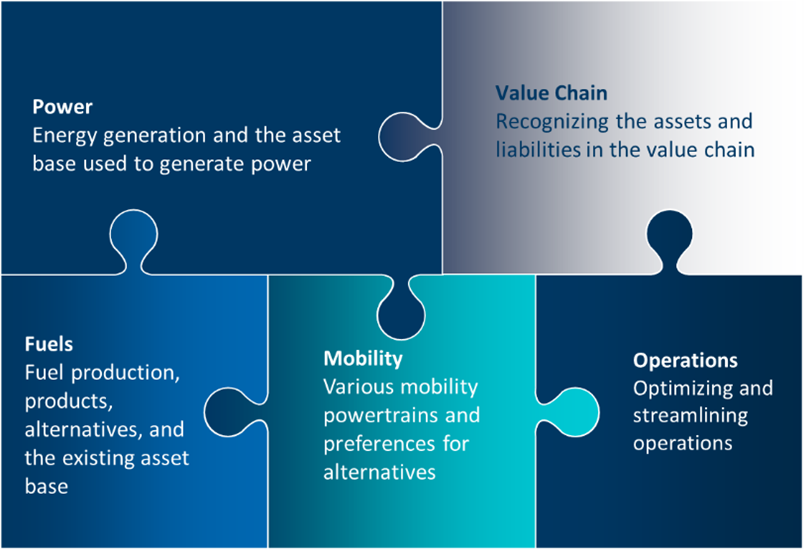 The evolution of any one industry is dependent on the evolution pathway of others. The growth of electric vehicles for example, is significantly impacting multiple sectors – automobile, oil & gas, materials and mining, and power. The pace of change is highly dependent on battery technology and materials, policy incentives and the investment in manufacturing supply chains and clean power delivery infrastructure. Beyond renewables and the battery enabled transformation of mobility and power, Hydrogen, CCUS and clean fuels are emerging sector coupling technologies that offer solutions for hard to decarbonize sectors such as heavy transport, chemicals and steel production.
An integrated holistic end-to-end sustained effort is vital for success in the energy transition for companies, sectors and indeed entire countries. FTI is uniquely positioned to address the end-to-end challenge for the energy transition across the business lifecycle from diagnostics to strategy development to funding and implementation.
FTI combines a global footprint and core competencies in corporate finance, economics and strategy with deep energy expertise and extensive industry contacts. We work with a variety of industry stakeholders — investors and lenders, start-ups and established companies, law firms, utilities, manufacturers, regulators, governments, and industry associations. Our significant network of in-house experts in energy and adjacent sectors enables us to assemble teams with skill sets that match the opportunity and deliver success for our clients.
---
Minerals & Materials
Energy Transition Minerals & Materials, such as copper, nickel, cobalt, and lithium, are those used in products and applications to support the energy transition from petroleum-based and carbon intensive resources to cleaner 'green' energy sources and zero-carbon materials (including green steel and aluminum).
Often deemed 'green metals' for their role in the decarbonization effort, the demand for these materials is forecasted to outstrip supply in the near and medium-term. Some of these metals, such as lithium and rare earths, have traditionally had niche uses. Therefore the effect of growing demand can put significant pressure on the markets for these materials. In addition, traditional methods of extraction (such as evaporation for lithium brines) require extensive lead time to deliver products to end markets. Given this supply-demand imbalance, a significant amount of capital is moving into the sector to meet the growing demand, however, it can take many years before capital investment leads to commercial-scale production of these materials creating near-term deficits which may see inflated prices of such minerals. This dynamic strongly supports increased R&D and accelerated innovation to address supply challenges.
At FTI, we work with producers, OEMs, industry group, investors, and regulatory bodies to assist in the development and sourcing of these critical minerals and materials in the marketplace and decarbonization throughout the value chain from sourcing to transportation, refining and processing. We provide strategic advisory, due diligence and transaction consultancy services across all energy transition minerals through the life of investments. Our services include advising governments and regulatory bodies on policies and structures to enhance the adoption of energy transition minerals to evaluating early stage investment opportunities to supporting the economic production of these minerals and ultimately their end use in battery storage, electric vehicles or other applications.
A sample of the breadth of our service offerings in the energy transition Minerals & Materials space is represented by the following:
Advisor to a leading producer of battery materials for the due diligence of a lithium extraction and refining project in Latin America
Advisor the U.S. Department of Energy for the financing of new investments in electric mobility, from materials to electricity storage
Advisor to a leading steel producer for the technical evaluation and funding of a decarbonization program of their plants in Europe
Buy-side advisor to a large private equity firm for an investment in green construction materials in Europe and the U.S.
---
Oil & Gas
---
Utility of the Future